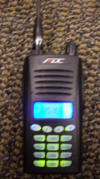 My buddy was working overseas in china teaching English for the Chinese Olympics. He bought a small hand held Radio for his stay in china: FEIDAXIN
FDC FD-160A Transceiver.

This is his account / review along w/ tips and tricks. He didn't have web space so I put it on my site.