FD-150A VHF/UFH (My buddies review)
FULL Review: FDC FD-150A/450A VHF/UHF FM Transceiver:
My south African buddy is working in china teaching English for the Olympics. He bought a small hand held
radio china model fd-150a 2 m radio : Feidaxin FDC FD-160A Transceiver. This is his account / review along with tips and tricks. He didn't have web space so I put his review on my site.
Cheers all: In china they sell everything on the street in bazaar shops like a bungalow sale. K0BET told me they call this a flea market state side. I saw this little radio and thought it would be good for use when I was in country out on holiday touring in case my car got wonky or if I reckon I got into a mess.
The first set of photos are of the box and opening up the FDC FD-150A Box: You get a radio, battery, battery charger, earphone / mic *like a mobile phone mic, belt clip and antenna. The Instructional manual was in Chinese but English translations are all over the web for download online. mod.dk was where I found the English version Search for Feidaxin at: http://www.mods.dk/manual.php and download "Feidaxin FD-150A 450A Function list.zip" for the complete function list. http://www.feidaxin.com/
Review: Click thumbnails for increased picture size








English MANUAL-http://www.mods.dk/manual.php?brand=_other (look for fd-150a)
REVIEW FDC FD-150A
The FD-150A is a great little hand held HT for the money. The output power is pretty decent at 5watts, there is a hi/low power setting and the radio is very easy to operate. As for bang for the price its great, it only cost around 300 rand *($39 USA) . The speaker works well and I have been able to talk to people without issue of noise interference. You can pretty much figure out the workings of the radio within a few hours of operations. I would give it a 4.5 out of 5 stars. For a muck around radio its a good choice and works, put in the charger & battery charges, take it off & you can talk, what more do you want. The battery life is good but if doing a lot of TX bring the charger, in Hong Kong you can pick up spare battery for a song.
The antenna is not the best but works, a reverse SMA to BNC connector can allow you to put on a different BNC type antenna. The squelch is different as the FDC FD-150A doesn't have squelch knob, it uses a function button for volume. Once you figure out if you like to hear static or not you get over not having a squelch knob. The buttons are standard style rubber, the design is sturdy and feels fairly tough. The belt clip is hard plastic, it works but I would not trust the belt clip on a hard fall. The blue led background light works well in the dark and the buttons light up a LED green. I like that you can use the key pad to enter the frequency without having to dial anything. The top dial is only for on/off & volume. Everything you do on the radio is done via the F key and a number button so its fast and easy.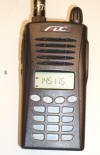 There is an auto off button and many other features like lock key pad and scan. The scan capability is excellent you can put in up to 99 different frequency's to scan. It is easy to setup CTCSS tones and then to save to a memory. The only down fall my be the weak antenna but once you get the SMA to Reverse BNC connector you can put a better antenna on and then its sailing. Not to say, the antenna works fine but you can not hit distant users/ repeaters with the onboard antenna to well. If you are close its a no worriers type deal but from a far you may want to add a better antenna.
FULL SEPCS: http://www.feidaxin.com/en/listproduct.asp?ID=305 (hit english - select model)
A few tips to help you get started.
To TX - talk on 2 meter repeaters the standard offset is 00.600 for - negative offset. This is not set by default you must set the OST offset to 00.600 -- (read below)
SET NEGATIVE offset frequency fd-150a for repeater use
Press F and then the OST button.
From there select 00.600 and press the PTT button to save setting.
Now the offset is set to move 00.600 down when talking in a standard 2 meter repeater.
SET radio to NEGATIVE offset fd-150a
Press F and then the # REV button
From there you see OFFS --> move your arrow buttons <-- or --> to the minus symbol for negative
(repeat same steps for positive offset but move symbol to + plus sign.
push PTT to save.
FD-150A/450A
Special features
| | | |
| --- | --- | --- |
| Charger LED indicator (red: charging and green: fully charged) | Programming method:computer/manual | Built-in 50 groups of CTCSS and 104+1 groups of DCS |
| Signal strength indicator | LCD and keypad | Repeater operation |
| Scan function and keypad lockout | Standby time: 120hrs | Adjustable squelch level: 0 to 9 |
| High/low power select (1 to 5W) | | |
Technical specifications
Model NO.
FD-150A
FD-450A
General
Frequency Band
VHF
UHF
Frequency Range
136-174MHz
400-470MHz 410-480MHz
Channel Capacity
99
Operating Voltage
6V DC ±15%
Antenna Impedance
50Ω
Channel Spacing
25kHz
Working Temperature
-30 ℃ - 60 ℃
Frequency Stability
±2.5 ppm
Size (Without Antenna)
56(W)mmx106(L)mmx32mm(D)
Weight(With Battery)
About 250g
Battery
1200 mAh(Ni-Mh)
Compatible With American Military Standard(MIL-STD-810C/D/E)
Transmitter(EIA-RS 316B STANDARD)
RF Power Output
5W/4W
Modulation Type
F3E
Modulation Distortion
< 5%(300-3000Hz)
Max Freq Deviation
< 5kHz(1000kHz When 100%)
FM Noise
<=-45dB
Receiver
Sensitivity(12Db SINAD)
0.16μV
Selectivity
55dB
Adjacent Channel Selecivity
>=70dB
Noise Respond
>=60dB
Communication Range
3-5km(Downtown),6-20km(In the Open Area)
FM Noise
45dB/40dB
Modulation Type
16KOF3E
Audio Power Output
500mW When Distortion Less Than 10%
Audio Distortion
< 5%
Operating Bandwidth
±7kHz
Standby current
<10mA

| Top